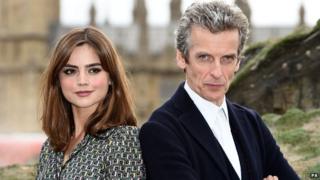 PA
Jenna Coleman has revealed she's not quitting Doctor Who.
There were rumours that her character Clara Oswald would leave the show after this year's Christmas special.
But at the end of the festive episode, the Doctor and Clara set off together for more adventures.
Jenna Coleman said: "It's wonderful. I get a whole other series of stories with the Doctor and I couldn't walk away with the story being unresolved."
She added: "There is so much more to do. I think they've finally just reached a point where they really understand each other."
Peter Capaldi is pleased that his companion is sticking around for another series.
He said: "I'm thrilled. Jenna has just been fantastic and such a pleasure to work with."