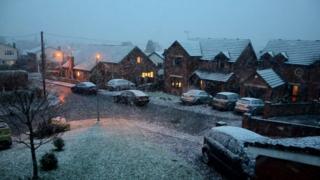 Snow falls in parts of the UK
It's too late for a white Christmas, but snow has been falling across parts of the UK.
The snowfall started on Friday and parts of Yorkshire, the Midlands and Wales have had the most.
Weather forecasters said the snow was 10cm deep in Leek, Staffordshire and said the cold weather could cause problems for people hoping to travel.
In Yorkshire a coach full of passengers was stranded by the snow and passengers had to shelter for the night in a church.
But some people have been enjoying the snow.
In Sheffield, residents of one street have been !
BBC weather presenter Helen Willetts said it's likely to have stopped snowing by Sunday but will remain cold until the end of the year.
Watch more Newsround videos