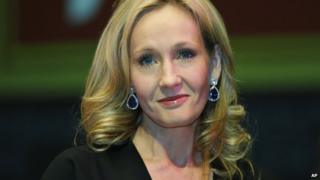 AP
JK Rowling has revealed more details about Harry Potter's rival, Draco Malfoy.
In the 12 days leading up to Christmas the author is releasing short stories about the magical world on her Pottermore website.
In her longest story yet she told fans her own thoughts about Draco Malfoy, as well as her visions for the future of the character.
According to Rowling: "Draco was not concealing a heart of gold... he and Harry were not destined to end up best friends."
High hopes
Rowling also reveals that Draco married the younger sister of fellow Slytherin, Astoria Greengrass and that they live with their son, Scorpius, in Malfoy Manor.
Rowling said: "I have high hopes that he will raise Scorpius to be a much kinder and more tolerant Malfoy than he was in his own youth."
It's not the first new story from Rowling since the end of the Harry Potter series. She wrote 5,000 words for Pottermore about Potter character, Dolores Umbridge at Halloween, earlier this year.