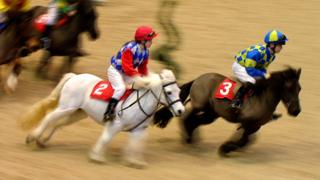 The jockeys of the future?
The London International Horse Show brings together some of the finest jockeys and horses in the world.
But for kids wanting to be a superstar jockey of the future, and take part in a race as big as the Grand National - where do they learn the skills needed?
Simple - The Shetland Pony Grand National.
Racing on small ponies called Shetlands, competitors aged between 9-14 speed around the arena on a miniature course with jumps like those seen at an Aintree Grand National.
The BBC's Nick Hope has been to meet some of the kids taking part...
Watch more Newsround videos