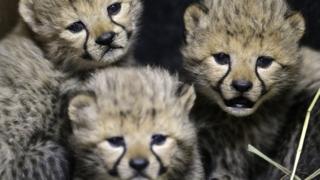 Cute cheetah cubs settling in well
Four super-cute cheetah cubs are healthy and settling in well at a zoo in the Czech Republic according to their keepers.
The fluffy foursome were born at the zoo in Prague in November.
The first few weeks after they are born are really important because that is when they can easily become ill - but keepers at the zoo say they made it through and are doing well.
Cheetahs are under-threat in the wild and scientists say that making sure the cubs are healthy is important to save cheetahs in the future.
Watch more Newsround videos