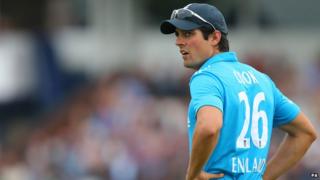 PA
Alistair Cook has been dropped as the captain of England's one-day international cricket team.
The people who pick the England team have decided that he hasn't scored enough runs. He averages only 27.52 in his last 20 one-dayers.
They therefore need a new captain - and Eoin Morgan is the man they've picked.
It's a bit of a surprise decision, with the Cricket World Cup only being two months away.
England have different cricket teams for matches that only take a day, and test matches which take longer.
In one day games, players have to score runs faster, and Alistair Cook has struggled to do that in the past.
However, Cook will stay on as the captain of the England test team - in which he's scored more runs.
Cook has said he's "gutted" not to be picked to take part in the World Cup.