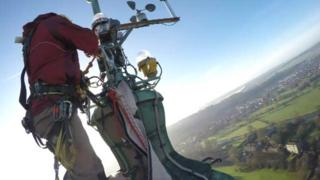 Daredevil repair caught on camera
The daredevil repairmen working at the top of a Cathedral spire have filmed their work - and it's amazing!
The conservators of Salisbury Cathedral climbed Britain's tallest spire to repair the weather meter at the top.
While they were at it, they filmed their view - and it's not for those scared of heights.
You can see what they saw at the top of the 123m climb in the video above.
Watch more Newsround videos