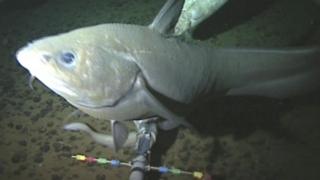 New record for world's deepest fish
A new record has been set for the world's deepest fish.
The bizarre-looking creature, which is new to science, was filmed 8,145m beneath the waves, beating the previous depth record by nearly 500m.
Several other new species of fish were also caught on camera, as well as huge crustaceans called supergiants.
The animals were discovered during an international expedition to the Mariana Trench, which lies almost 11km down in the Pacific Ocean.
Watch more Newsround videos