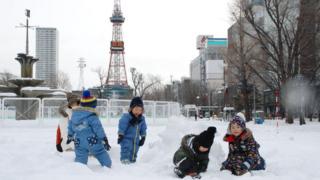 Japan hit by heavy snow and gales
Heavy snowfall is causing big problems in Japan.
An extreme low pressure weather system has made snow fall suddenly and quickly.
There have also been very strong winds that have caused tidal surges, which means big waves crashing onto the shore.
In the northern island of Hokaido, over 70 cm of snow fell in 24 hours.
There was lots of disruption to travel and some buildings have collapsed.
Watch more Newsround videos