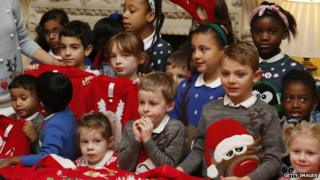 Getty Images
Ho, Ho, Ho! It's nearly Christmas and that means school is nearly over for the holidays.
We are getting very excited here at Newsround HQ, but we want to know what you will be getting up to on your last day of school?
What Christmas activities will you be doing?
Will you be sending Christmas cards to your teachers and friends?

Are you making any Christmas decorations?

Will you be bringing in games to play?

Are you wearing any Christmas outfits?
We would love to know what you will be getting up to.
This chat page is now closed but you can see a selection of your comments below.
Your Comments
We are doing secret Santa in our class and a Christmas talent show, and finishing a 11.
Nawal, London, England
At my school we have a carol service at a church and watch a movie in the morning and in the afternoon the teachers do a Christmas performance for us.
Rebekah, Leicester, England
On my last day we are having a non-uniform day to raise money for charities in our local area. Also, we will be finishing early! Today our teachers dressed up and performed a pantomime! It was so funny.
Libby, Manchester, England
We're having a non-uniform day, a pantomime and 'Year 6's Got Talent' show.
Sarah, Stockport, England
In my secondary school I'm going to watch a movie, and the sixth form production.
Theviya, London, England
My school are doing an end of term assembly. The teachers usually do an end of term performance I can't wait to see what they are doing.
Jessica, London, England