The release of a major Hollywood movie has been cancelled internationally after a threat from hackers.
The Interview is a comedy about a fictional plot to try and kill the controversial leader of North Korea, Kim Jong-un.
Earlier this week, Sony had given cinemas in the US and Canada the option to bow out of showing The Interview because of the threats that were made.
Many major cinema owners have now decided not to show the film.
This has led to the movie company, Sony Pictures, to pull the film altogether.
Lots of Hollywood's biggest film stars have reacted quite angrily to the decision to cancel the release of the film.
Night at the Museum actor Ben Stiller tweeted: "Really hard to believe this is the response to a threat to freedom of expression here in America."
Despicable Me star, Steve Carell, said it was a "sad day for creative expression".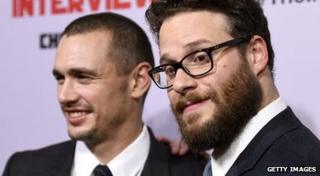 Getty Images
Newsround told you last month how Sony Pictures had suffered a massive cyber attack from hackers, who accessed their systems.
No one knows exactly who was behind it but the US suspect it might be people in North Korea who think the film is insulting.
The Interview was due to come out on 25 December but those plans have now changed.