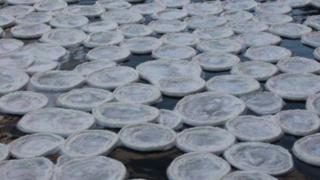 'Ice pancakes' form on River Dee
The River Dee in Aberdeenshire, Scotland, has provided a spectacular winter scene with the formation of hundreds of "ice pancakes".
More commonly seen in the Antarctic, it is thought foam freezes overnight and forms in a circular pattern as the clumps bump against each other.
Check out these cool photos!
Pictures courtesy Jamie Urquhart
Watch more Newsround videos