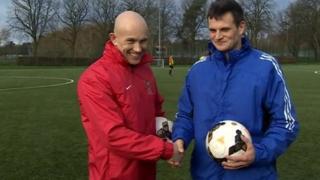 Army teams meet for truce match
The British and German army football teams have played a match to commemorate 100 years since the World War One Christmas truce.
Soldiers from both sides shared an impromptu ceasefire in Ypres, Belgium, on Christmas Day 1914.
Graham Brookland of the Army FA said the match would "commemorate the occasion in an extremely good spirit".
The game, played at Aldershot Town FC in Hampshire, ended in a 1-0 win for the British Army.
Watch more Newsround videos