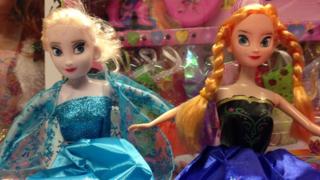 Thousands of fake toys seized
Every year thousands of fake toys are sold to people illegally, which could potentially cause harm because they haven't been properly checked.
Trading Standards are a group of people who make sure that any toys or items that come into the country, are properly checked, and have special safety marks on them to show you that they are the real thing.
Fake toys are usually cheaper copies of real toys, which can be dangerous if they have not been through proper safety checks, and could cause injury or harm to the person using them.
In a recent check by Trading Standards, they seized almost 2,000 fake toys, 456 of which were fake dolls from the film Frozen, and around 1,440 were Peppa Pig toys, which were leaking a chemical.
Watch more Newsround videos