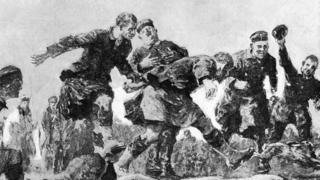 100 years since the Christmas Truce
100 years ago this Christmas, a special event took place during World War One.
It became known as the Christmas Truce.
On Christmas day in 1914, British and German soldiers who were fighting against each other in the war, laid down their weapons and sang carols, shared food and played a football match together.
A century later, many people all over the world have come together to mark the occasion in different ways.
This year soldiers from Britain and Germany have joined forces to recreate the Christmas Truce in a friendly football match.
The match was played in front of the head of the Football Association, the head of the Armed Forces and Bobby Charlton.
Watch more Newsround videos