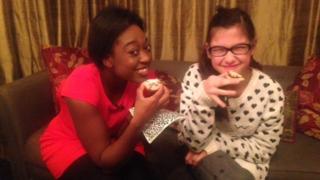 Girl hears Christmas for first time
Earlier this year, Newsround met 11-year-old Sula who was having special ear implants fitted to help improve her hearing.
Sula is deaf and had a special device called a cochlear implant fitted 6 months ago to help her hear.
Sometimes if you have a hearing problem, one part of the ear which might not work is the cochlea.
A cochlear implant is a small device which sits under the skin above the ear.
Not everyone thinks the implants are a good idea.
Some people think deaf children should wait until they are adults to decide if they want them.
Ayshah caught up with Sula, to see how she's getting ready for Christmas and the new sounds that brings.
Watch more Newsround videos