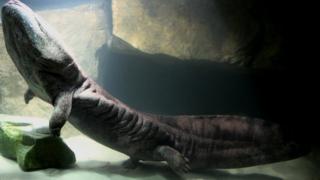 Giant salamander arrives at UK zoo
A Chinese giant salamander called Professor Wu has arrived in the UK at ZSL London Zoo.
The giant salamander is the world's largest amphibian and the first of its kind in the UK, measuring just over one metre in length.
The 19-year-old was brought over to the UK from Rotterdam Zoo and is part of ZSL's new conservation project that is trying to help prevent the Chinese giant salamander becoming extinct in the wild.
They're classified as critically endangered by the International Union for Conservation of Nature and are facing extinction in their native China.
Watch more Newsround videos