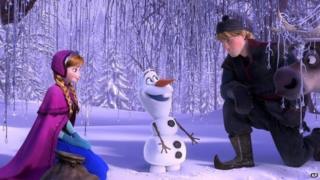 AP
The soundtrack to Frozen has been top of the music charts this year and we want to know if you're still singing along to it?
In a recent interview for a magazine called The Hollywood Reporter, Jennifer Lee, who's the Director of Frozen, said that a year ago people would tell her they loved the songs and would sing them all the time.
But now, a year later, she says she sometimes apologises when people tell her they're still hearing the songs being played.
What do you think?
Do you still love the songs from Frozen, and do you sing along to them?

Maybe you are a bit bored of them and think they are played a bit too much?
This chat page is now closed.
Your comments:
I always sing Let it Go, and I think it is still really popular because everyone in school sings it, even the boys!
Sara, Glasgow, Scotland
It has been getting on my nerves as it is played everywhere, but I do like a couple of the songs, and my sister loves it!
Jasmin, Sussex, England
I still love Frozen and I am not bored of it, in fact I am learning to play Let it Go on the recorder.
Isabella, Huddersfield, England
I still love the movie Frozen, it is my favourite animated movie! I especially love the song, Let it Go, I sing it all the time!
Saima, Manchester, Oldham
I still absolutely love Frozen, I think it is the number one film! It is so amazing.
Amelia, Derbyshire, England
I am getting a little bored of the songs, but not the movie.
Aline, London, England
I like some of the songs but it is getting on my nerves now because all I'm hearing is little girls singing Let it Go!
Amy, Beckenham, England
I think the song is very inspirational, but is now quite annoying with little kids singing it very high pitched!
Graceopher, Yeovil, England
It was a chart topping film at first but then it got a little annoying.
Rebecca, Doncaster, England