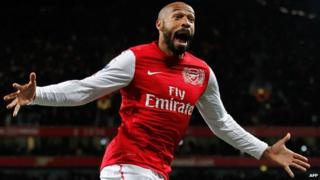 AFP
Former Arsenal and France striker, Thierry Henry, has announced his retirement from football.
The 37-year-old Frenchman had been playing for the New York Red Bulls but left the club this month.
Henry, who also played for Juventus, Barcelona and Monaco, scored 175 Premier League goals and is fourth on the list of all-time scorers.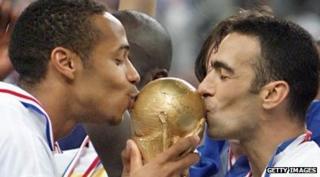 Getty Images
In his time at Arsenal between 1999 and 2007, he won two Premier League titles and three FA Cups with the Gunners.
"Amazing memories"
"I would like to thank all the fans, team-mates and individuals involved with AS Monaco, Juventus, Arsenal FC, FC Barcelona, the New York Red Bulls and of course the French national team that have made my time in the game so special," Henry said.
"I have had some amazing memories (mostly good!) and a wonderful experience.
"I hope you have enjoyed watching as much as I have enjoyed taking part.
"See you on the other side.."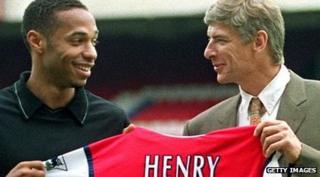 Getty Images
After leaving the Red Bulls, there had been speculation he might choose to play on at another club but he's now confirmed that he's planning to join Sky Sports as a football pundit.