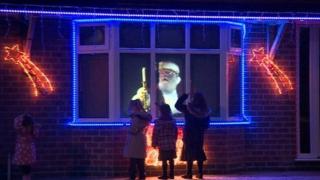 Hologram of Santa in window of house
A hologram of Father Christmas is entertaining crowds outside a house in Derby.
He can be seen moving around, looking out of the window and waving as he prepares for his busiest time of the year.
A jolly Mrs Claus can be seen waving from an upstairs window.
The holographic video footage was set up by the person who lives at the house, electrician Carl Holdsworth.
Watch more Newsround videos