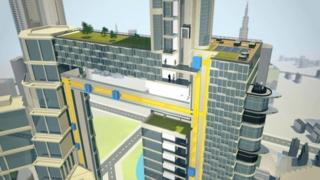 Check out the lift that goes sideways
A German company have come up with an idea for a lift that can travel sideways, as well as up and down.
The lift is designed for use in large buildings and skyscrapers and works by using magnetic technology, rather than cables.
The proposed system involves multiple cabins travelling in a loop, at a speed of around 11 miles per hour.
People inside the buildings would be able to gain access to a lift cabin every 15 to 30 seconds.
Watch more Newsround videos