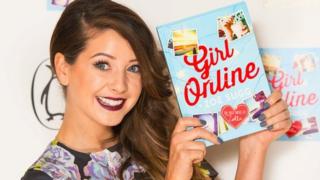 Zoella 'didn't write' Girl Online
Top vlogger Zoella is back on social media after it was revealed that she didn't write the hit book, Girl Online, on her own.
Instead she used something called a ghost writer, which is someone who writes the words based on someone else's ideas.
The book broke the record for the fastest selling debut novel by any UK writer but Zoella has been criticised for not explaining the use of a ghost writer earlier.
After the revelation she told her six million social media followers that she was taking a few days off the internet as "it's clouding up my brain".