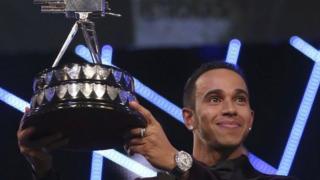 Lewis Hamilton wins SPOTY
Lewis Hamilton has been voted the winner of the 2014 BBC Sports Personality of the Year award.
The Formula one driver won his second world title this season.
Golfer Rory McIlroy was runner-up and athlete Jo Pavey came third.
"I want to say a huge thank you to all the people who called in, I really wasn't expecting it," Hamilton said.
"I am so speechless. I'm so proud and honoured to be among such great sporting talent."
- Overseas Sports Personality of the Year: Cristiano Ronaldo. The 29-year-old Portuguese forward was named world player of the year 11 months ago and scored as Real Madrid won the Champions League in May.
- Young Sports Personality of the Year: Claudia Fragapane. The 17-year-old gymnast became the first British woman in 84 years to win four gold medals at one Commonwealth Games.
- Lifetime Achievement Award: Six-time Olympic gold medal-winner Sir Chris Hoy was honoured in his home country.
- Helen Rollason Award: The Invictus Games competitors were presented with the trophy by Prince Harry.
- Sport's Unsung Hero: Jill Stidever won the award after spending nearly 60 years teaching thousands of children with special needs to swim.
Watch more Newsround videos