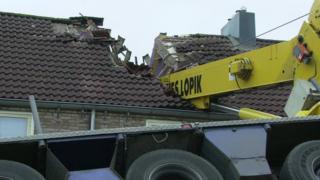 Novelty marriage proposal goes wrong
A crane tipped over and crashed into the roof of a house after a marriage proposal went wrong.
A man had rented a crane to lower him into his girlfriend's garden so he could surprise her, and ask for her hand in marriage.
But the crane wasn't secured properly and fell into a neighbour's house, destroying the roof.
An attempt to remove the crane caused further damage to the house in IJsselstein, Netherlands.
Luckily no-one was hurt in the accident, and the girl said yes to her boyfriend's proposal!
Watch more Newsround videos