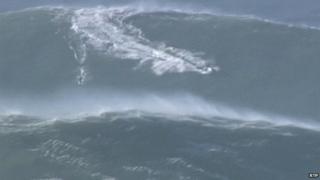 Surfer rides 'weather bomb' wave
Surfers have flocked to Praia do Norte in Nazaré, Portugal, to try and catch massive waves generated by an Atlantic storm that hit the UK.
Surfer Garrett MacNamara tried to repeat his performance of 2011 when he surfed the world's biggest wave at 30 metres high.
Unfortunately the 'weather bomb' waves off the coast of Nazaré only reached 20 metres - but he still managed to impress.
Watch more Newsround videos