Villagers in Bangladesh, South-East Asia, have used pots, pans and sponges to help clear thousands of litres of oil, three days after it spilled into a nature reserve.
The oil spilled after a tanker carrying 350,000 litres collided with another vessel, spreading the oil across nearly 40 miles of waterways.
Footage shows villagers scooping oil from rivers and birds covered in black liquid in the Sundarbans area.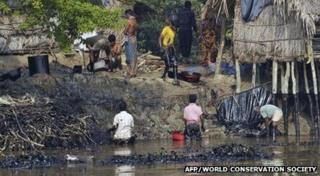 AFP/World Conservation Society
The Sunderbans is a Unesco heritage site, which means it is an area of great importance.
Its mangrove forest and rivers are home to a huge number of plant and animal life, much of it unique to the area.
The oil leaked into the river at a sanctuary for rare dolphins.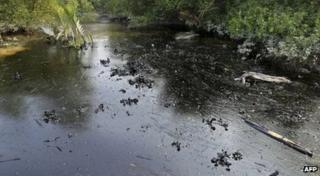 AFP
Experts say the impact on wildlife could be devastating.
But government officials say they still cannot give a prediction of how much damage has been caused.