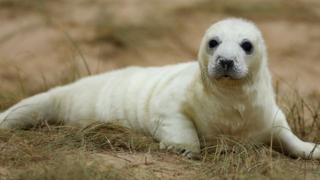 Baby seal numbers on the rise
A record number of baby seals have been born at a nature reserve in Lincolnshire.
More than 1,700 babies have been born this year at Donna Nook.
British Grey seals are born at the start of the winter.
Baby seals are called pups and they have only three weeks to grow strong enough to swim out to sea.
During this time the seal pups will triple in size by feeding on their mother's milk.
The number of seals born here dropped last year after the severe weather, but wildlife experts are optimistic that they are now doing well.
BBC reporter Amanda White has been to see them.
Watch more Newsround videos