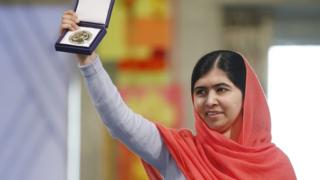 Malala receives joint Nobel Peace Prize
Pakistani schoolgirl campaigner Malala Yousafzai has received the Nobel Peace Prize, one of the world's most respected awards, at a ceremony in Oslo, Norway.
She has been recognised for her hard work promoting the right for girls to have an education.
Malala won it jointly with Indian child rights activist Kailash Satyarthi.
The prize judges described both winners as "champions of peace".
Watch more Newsround videos