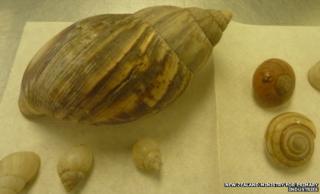 New Zealand Ministry for Primary Industries
A huge snail the size of a human hand has been stopped from entering New Zealand by border officials, who say it could have caused huge environmental damage.
The Giant African snail was stopped from "sliming a path of destruction" across the country, the Ministry for Primary Industries says.
This species of snail is an unwelcome guest in New Zealand because it eats the paint and plaster off buildings and destroys crops, according to the New Zealand Herald.
The government is worried if released into the wild then the Giant African Snail could damage New Zealand's crop and forestry industries.
It was declared by a couple at Auckland Airport after a flight from Madagascar, where they apparently collected it from a forest.
"At nearly 15cm long, it was the largest Giant African Snail many of our staff had ever seen," says ministry official Craig Hughes.
And the snail wasn't alone.
"When our inspector tapped the shell, a number of eggs fell out," says Mr Hughes.
The snail and its offspring in this case were destroyed, to avoid them escaping and causing any damage.