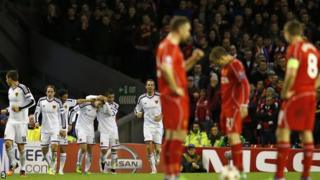 AP
Liverpool's terrible Champions League campaign came to a disappointing end as they failed to beat Basel at Anfield and saw their hopes of reaching the knockout phase disappear.
Steven Gerrard's brilliant late free-kick equalised Fabian Frei's first-half goal for the Swiss but the Reds were not able to get the important winning goal they needed to go through.
Up until Gerrard's equaliser, this was not an occasion in the famous Anfield tradition of European nights, the fans silenced for long periods except when voicing frustration at a side that has lost its way since coming so close to winning the Premier League last season.
Liverpool substitute Lazar Markovic was also sent off after coming on and delivering a promising cameo.
He raised his arm in the direction of the chasing Basel player Behrang Safari, and it was enough for the referee to show a red card.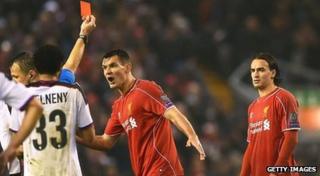 Getty Images
It is another setback in a disappointing season for manager Brendan Rodgers, who must now encourage players who looked devastated at the final whistle for a Europa League campaign.
Gunners on fire in Turkey
It was a good night for the other English team in action in the Champions League.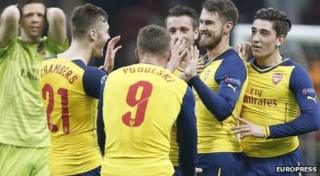 Europress
Arsenal hammered a poor Galatasaray side but could not claim top spot in Group D as Borussia Dortmund avoided defeat in their final group game.
The Gunners scored three goals inside 30 minutes, Lukas Podolski powering an opener.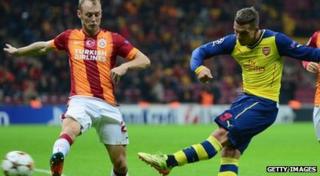 Getty Images
Aaron Ramsey slotted a second and added a stunning left-footed 35-yard volley.
Wesley Sneijder hit a free-kick consolation before Podolski rolled a second with the final kick of the game.