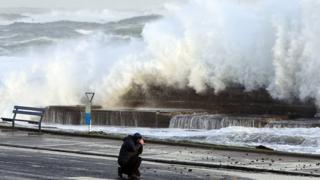 Disruption as storm hits northern UK
Thousands of Scottish homes are without power as a "weather bomb" storm hits western coastal areas.
Waves over 9m (45ft) high have been reported off Scotland's west coast.
Electricity supplies failed across the Western Isles, affecting 17,000 homes - though most of them now have power back on. Lighting strikes were to blame.
Weather experts warned parts of Scotland and Northern Ireland to "be prepared" as the storm brought gusts of up to 80 miles per hour.
Watch more Newsround videos