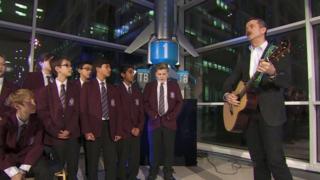 Chris Hadfield sings space lullaby
Commander Chris Hadfield, has performed a special space lullaby that he wrote for his daughter while stationed on the International Space Station.
The world's most famous astronaut sang the song for the first time at the end of a special Newsround programme on CBBC.
The Canadian made a name for himself by sending back a string of videos from the International Space Station, including a version of David Bowie's "Space Oddity", which had more than 25 million hits on YouTube.
And he proved that he does not need zero gravity to get his groove on by strumming the heartfelt tune for a crowd of kids at the end of Newsround on Tuesday afternoon.
Watch his exclusive performance here.
Watch more Newsround videos