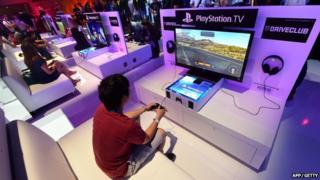 AFP/Getty
A hacker group has claimed responsibility for a cyber attack on the online PlayStation store.
Visitors to the site are met by a message that says: "Page Not Found! It's not you. It's the internet's fault".
Sony have said that they're aware of the problem and are asking people to be patient while they investigate it.
The outage is the most recent in a series of attacks on the tech giant.
Last week, Sony's Hollywood studios were hacked into and new unreleased films and confidential information, such as actor's salaries, were leaked online.