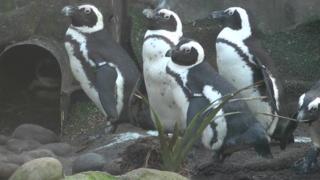 African penguins close to extinction
They're a favourite attraction at any zoo, but in the wild, African penguins are at risk of extinction.
The population of African penguins fell 70% between 2001 and 2013 and is continuing to decline.
With less than 18,000 breeding pairs left in the wild in South Africa, African penguins are an endangered species.
Every winter, hundreds of African penguin chicks, that have been abandoned by their parents foraging for food, are rescued by a rehabilitation centre in South Africa.
It's part of a project led by Bristol Zoo.
This year, African penguin chicks are coming in early and in their hundreds from the colonies.
The rehabilitation centre is already helping to care for 430 and this number is growing.
Rosie, one of the zoo keepers, sent us this special report.
Watch more Newsround videos