A rocket has launched in America, carrying a test version of the US space agency's new crew capsule, Orion.
The ship is designed eventually to take humans beyond the space station, to destinations such as the Moon and Mars.
Orion's short flight today tested important technologies, like its heat shield and parachutes.
It threw the conical ship to 6,000km above the surface of Earth, before the capsule has a fast re-entry into the atmosphere.
The craft 'splashed down' - returned to Earth - at 11:29 local time (4.29pm in the UK) on Friday afternoon. It landed in the Pacific Ocean off the coast of Mexico.
No people were on board when it blasted off from Cape Canaveral, Florida at 07:05 local time (12:05pm in the UK).
The test flight had been planned for Thursday, but it was delayed due to high winds in the launch area.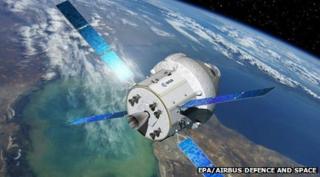 EPA/AIRBUS DEFENCE AND SPACE
Orion is being developed alongside a super powerful new rocket that will be unveiled in 2017 or 2018.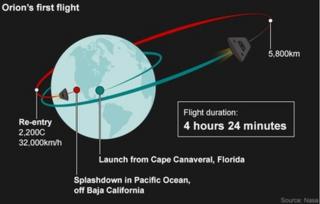 A human mission to Mars is still probably around 20 years away.