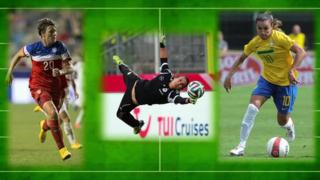 Women fight against plastic pitches
Some of the world's top female footballers are taking legal action to try to prevent the Women's World Cup being held on plastic pitches.
The 2015 tournament will be held in Canada next June and is set to be played on artificial grass.
Top players argue that it's gender discrimination and they're trying to make the organisation in charge of world football, Fifa, to change it.
Players say a plastic pitch can change the speed at which the game is played.
They also claim the plastic can cause more injuries.
But Fifa says that the extreme weather experienced by host nation Canada is one of the reasons for using plastic pitches.
And they say, as long as the fake pitch is good quality, it shouldn't make a difference.
Watch more Newsround videos