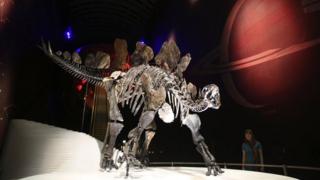 Researchers learning from Stegosaurus
A massive research project on the world's most complete skeleton of a stegosaurus has begun.
The stegosaurus was found in America around 11 years ago with only their left arm and base of the tail missing, making it one of the most complete stegosaurus skeletons ever found.
Although the stegosaurus is one of the most well-known dinosaurs, there are only six partially complete skeletons in existence, and it is among those scientists know the least about.
Nick-named Sophie, the Stegosaurus has now been moved to The Natural History Museum in London, where scientists have started scanning each of her 360 bones to create a virtual copy of her.
They hope they will be able to learn more about how she moved, how much she weighed and what she used to use her armoured spikes and plates for.
Here is a time-lapse of the scientists scanning and assembling Sophie.