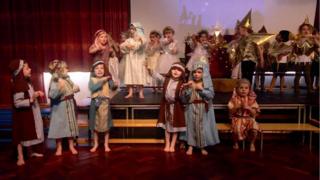 It's almost time for Christmas and that means many of you will be rehearsing for a Christmas show, carol concert or nativity at school.
A new survey has suggested that many schools are choosing more modern plays instead of traditional nativities these days.
So, we want to know what festive shows you're involved in and which part you're playing.
Whether you're the lobster, alien or pop star in your Christmas spectacular, or a wise man in a manger get in touch and let us know.
This chat page is now closed.
YOUR COMMENTS
Our Christmas play this year is Gogglebox meets 'Currie's Got Talent.' We have a mini Ant and Dec as well as the main judges and a granny/grandad combo in Gogglebox. There are four main performances and two whole cast performances. We are all very excited!!!
Currie Primary School, Belfast
We are doing the show called "The Nativity". We are having 4 performances including one this afternoon and 3 next week, with lots of singing and dancing.
Carstairs Junction Primary School, South Lanarkshire, Scotland
Our Christmas play this year is called 'Santa's On Strike! 'It is a play with the nativity story as part of it. There are lots of characters including: Santa, Mrs Santa, families, elves, reindeer (including Rudolph), nativity characters, carol singers, children and teachers. We have been working hard to learn our lines and songs and we feel excited, but a bit nervous too!
Newport Primary, Devon, England
My school is doing two performances; one nativity for the younger kids and one musical nativity named Hosanna Rock! But only Year 5 are performing it.
Carys, Greater London
We are doing a traditional nativity play and my younger sister is an innkeeper
Oliver, Hermitage
Thanks for all the news! Our Christmas play is Shrek the musical.
Matthew, Frizington
I am doing Joseph and his dream coat and I am playing Dan. Joseph is more of a nativity, and I am a little nervous.
Daniel, Alne
In my school play I am a gamer playing a Xbox. I am really nervous and it is today.
Louis, Manchester
Hi my school does not do plays or concerts for the older children, only Year One. I wish we could do one and I think that any play or concert should be more traditional than not.
Megan, St Breward in Cornwall
I am doing a news report on the nativity story.However, I am not sure if some of the characters are real.
Ben, Southampton