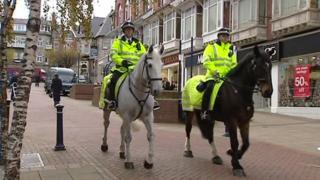 How do police horses help officers?
You might have seen police horses in your neighbourhood, in city centres, or even at events like football games.
Well, new research suggests that they do help police officers to do their job.
A report by Oxford University claims that a police horse helps people see the police, and makes people more likely to speak to officers.
Police horses are often used to manage large crowds of people.
Jenny went to meet Captain, a police horse with Greater Manchester Police, to see how he goes about his day.
Watch more Newsround videos