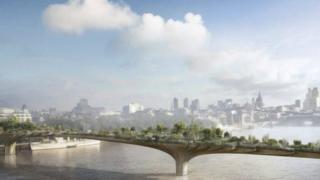 London garden bridge one step closer
A huge garden bridge over the River Thames in London is a step closer after plans were approved by local council officials.
The bridge, for pedestrians only, would cost £175m to build, making it the world's most expensive footbridge.
Lambeth and Westminster councils, who are in charge of new buildings in areas of London, have both said the bridge can go ahead.
But some people aren't happy with the idea, saying it could spoil views on the riverside, including St Paul's Cathedral.
London's Mayor, Boris Johnson, will have the final say over whether the bridge can be built as planned.
Check out Ricky's report for more on this story.
Watch more Newsround videos