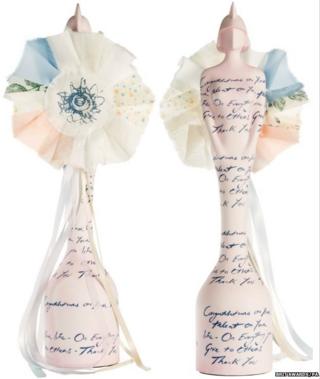 BRIT AWARDS/PA
This is the big trophy pop stars in Britain will want to win - it's the newly designed Brit Award for 2015.
British artist Tracey Emin has given the statue a light pink colour and a rosette.
She described the rosette as "slightly shieldish, but also like a pair of wings".
The statue also has the handwritten message: "Congratulations on your talent on your life. On everything you give to others. Thank You."
It's the fifth time the award has been given a makeover by a top British designer.
Tracey said: "You want to do it really well. You don't just want to decorate it, you want to make something that is really Tracey-ish, that is special for the people receiving it."
Watch Ayshah's red carpet interviews from the 2014 Brits earlier this year.
The 2015 Brit Awards is taking place on 25 February.
I'm A Celebrity legends Ant and Dec are going to host the show.