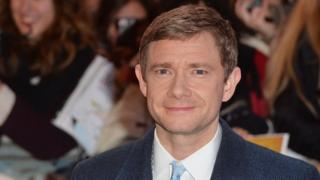 Hobbit stars at final film premiere
The Hobbit stars have enjoyed a green carpet world premiere for the trilogy's final film, The Battle of the Five Armies.
The premiere was streamed live to more than 160 countries from Leicester Square in London.
Some fans camped out for up to five days to catch a glimpse of their favourite actors.
Watch the clip to hear from stars Martin Freeman, Orlando Bloom, Benedict Cumberbatch and Luke Evans, plus director Peter Jackson.
Watch more Newsround videos