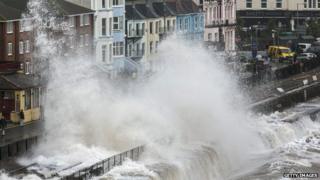 Getty Images
A total of 300,000 homes in England are set to get protection from flooding.
The government has decided how a big pot of flood defence money, £2.3 billion, is being spent.
Cash is going to 1,400 flood defence projects, with two of the biggest amounts for the River Thames and River Humber.
The Committee on Climate Change, which advises the government, welcomed the money but said existing defences needed better care.
A series of storms brought massive floods at the start of the year, particularly in southern England.
Some areas were underwater for weeks, with thousands of homes deep in muddy water.