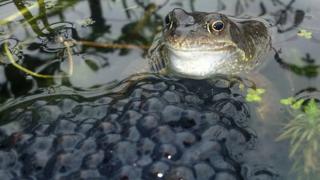 We're only two days away from December but three months before it's supposed to appear, frogspawn has been spotted in some parts of Britain!
And it could all be down to the weather.
Frogs usually lay their eggs in March but experts say they could be confused by the mild weather we've had this autumn.
The spawn, which has appeared in Cornwall, could be the earliest sighting in ten years.
If you've seen any early signs of spring we want to hear about it.
This chat page is now closed. Thanks very much for getting in touch.
Your comments
I walked out into the garden this morning after seeing an item on the news about early spring...only to hear a cuckoo calling.
Simon, England
I saw a ladybird on a tree in my garden and I was so happy.
Brianna, United Kingdom
I stepped out into my garden this morning and saw small shoots of daffodils popping up in my woods. I also saw the start of some snowdrops there as well.
Tess, United Kingdom
I have seen a lot of birds, which might normally have migrated.
Lizzie, England