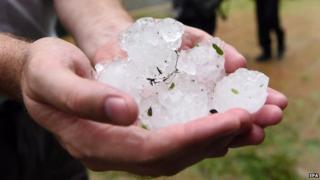 Huge ice balls hit Australian city
Hailstones the size of golf balls have hammered the city of Brisbane in Australia.
A severe storm brought winds of 85 miles per hour, blowing over planes and roofs.
It caused widespread damage and up to 90,000 homes were left without power.
Thankfully no one was seriously hurt.
Watch Ricky's report for more on the storm.
Watch more Newsround videos