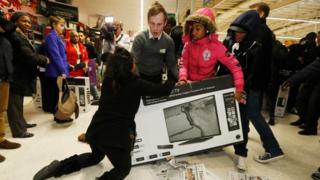 Police called to Black Friday crowds
Police have been called to supermarkets across the UK to help control crowds hunting for 'Black Friday' offers.
More and more British shops are now offering large discounts on what's known as 'Black Friday'.
It's the biggest shopping day in America and in recent years it has spread to the UK.
Some stores began discounting items at midnight, causing many people to turn up in the hope of bagging a bargain.
'Black Friday' is the day after the Thanksgiving holiday, which is the fourth Thursday of November.
Most people have the day off work, so many head out to do Christmas shopping.
Shops give big discounts to make sure they do.
In 1966, shoppers caused traffic chaos in Philadelphia, so some people think that police started calling it 'Black Friday' to put people off.
Watch more Newsround videos