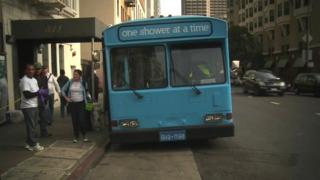 The bus where homeless people shower
A bus in the city of San Francisco, USA, has been turned into a mobile shower for homeless people.
The woman behind it, Doenice Sandoval, says she wants to make sure homeless people have the chance to get cleaned up.
She came up with the idea after seeing a young woman on the street upset that she couldn't have a bath or shower.
Doenice was awarded $100,000 to pay for the project as part of a 'Global Impact Challenge' set by Google.
She told BBC reporter Richard Taylor that she hopes to get more busses converted.
Watch more Newsround videos