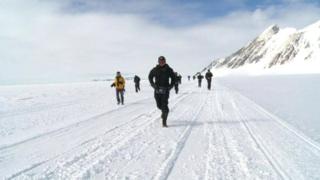 Runners brave the cold for ice marathon
Running a marathon is hard enough - but how about doing it in temperatures as low as -50 degrees?
Fifty athletes from around the world wore balaclavas, goggles, gloves and mittens to brace sub-zero temperatures and take on the 26.2 mile course.
The race took place on 18 November, a few hundred miles from the South Pole at the foot of the Ellsworth Mountains in Antarctica.
An earlier marathon saw six runners run a hundred kilometres, non-stop!
Watch more Newsround videos