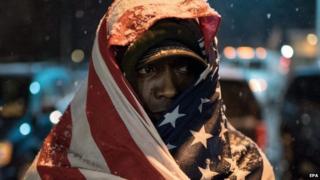 Ferguson quieter after protests
People in Ferguson, USA, have seen a mostly quiet night on the streets after a difficult few days of demonstrations.
Protests seemed to die down on Wednesday, after heavy snowfall and as millions of Americans prepare for the Thanksgiving holiday.
The US has seen days of protests focused on what happened in Ferguson, in the state of Missouri.
People are angry about a decision, made on Monday, not to punish a white police officer for shooting dead an unarmed black teenager called Michael Brown back in August.
The shooting sparked weeks of protest at the time and has led to many people asking questions about the way black people are treated by police in the United States.
Find out more:
Watch more Newsround videos