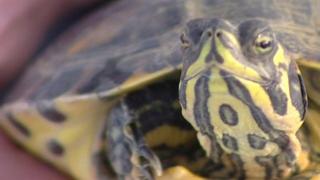 More pet terrapins being dumped
More and more pet terrapins are being dumped by their owners, the animal charity RSPCA is warning.
The hard-shelled creatures need a lot of care. They eat special food and can live for a long time - up to 50 years.
Last year, the RSCPA got more than 1,200 calls about the little reptiles.
Kim Greaves from the RSPCA said: "More and more are getting abandoned, especially more so due to the current film Teenage Mutant Ninja Turtles.
"What we're seeing is that unfortunately people, when they get fed up of them and they don't want to look after them anymore, dump them in ponds and waterways.
The RSPCA is urging anyone thinking of getting a pet terrapin to think carefully about it.
Kim's advice is: "Think really long and hard - they're a long-live species, they have got specialist needs and dietary requirements, they need quite large housing as they grow."
Watch more Newsround videos